Disclaimer: None of the sites listed asked me or paid me to mention them in this post. Just want to make that clear for anyone who reads and thinks that I am "hatin" (i can't stand that word) and trying to promote for profit. I'm not, this is merely my opinion and since this is my blog...I will state it freely as you can state yours also!

Well, that seems to be the hot topic to dish about at the moment about a certain hair board. I'm not here to cause trouble (actually I am) but I just want to take a moment to examine the situation. It seems that one of our most popular hair networks (Healthy Textures) will now be moving and the enrollment fee is $9.99 per month (yes, per month) or discounted at $99.99 for the entire year.

*sigh*I'm not here to knock anybody's hustle...to be totally honest, Healthy Textures was the first hair network I joined. I will be upfront...I didn't really feel as though I fit in there. I never had the admin on my friend list nor felt comfortable enough to ask too many questions. Anywhoo, I still got a GREAT load of info from other ladies and everyone on my friend list was uber friendly.

Back on the topic, I congratulate her for stepping her site up and getting that paper...but the real question is....Is this a reasonable price? Answer: Hellz no, it's not reasonable.

Long Hair Care Forum charges $6.50 for the year (which I plan on joining tomorrow) and have a wealth of info that will definitely get you started. For me to pay 10 bucks per month is sheer foolishness.

10 bucks for the year (reasonable, would definitely do it)
per month (me+10 bucks per month= me being a fool)

I am a loyal member of a few other sites (I will list below) and they are totally free! Not to mention all the blogs I'm currently following....*sigh* what people do to pull a profit. But good luck with that, I'm staying where I am!

Now, those of you that are K.I.S.S members, remember to donate (much better than a ridiculously imposed fee) and help keep it free. Traycee is a wonderful person and has done great things with K.I.S.S. so let's do our part and donate what we can!

I'm also a member of The Coarse Hair Diaries and another up and coming site....Hairlista's...by fellow blogger Sunshyne! Let's support these sites and keep them up and running. They are warm, friendly, and giving sistas so whatever you're looking for you can find it over there.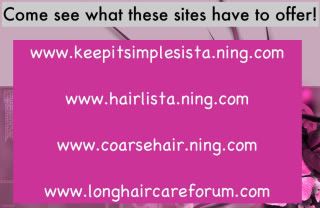 HHG to all!

Stay Browne, Stay Lovely!