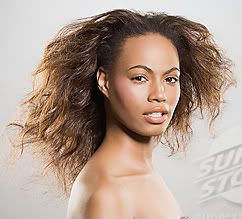 So, as of lately my hair is beginning to look more and more like this picture except for the fact that my roots are puffy, my hair is dry, and I'm running out of products. I'm going to do a self assessment tonight and figure out what my problems are and what I need to be doing to correct them.

We've all seen Reniece's hair (by now) video on Youtube and I must say her progress is amazing and the fact that she's natural gives me hope. I've decided to do a weave challenge for this year and begin growing out my natural hair starting January 30. I'll be getting a weave done anyhow so why not BC and start the challenge!

I'm still waiting for my Honeyfig order to be shipped out so as soon as I receive it I'll show you guys what I got! Matter of fact, I may just do a haul of all hair products I currently have in my closet.

I won't be posting my new regimen until January 30th. So, I'll be keeping it super simple until then and hopefully I'll get the products I want by then as well. I'm doing all my research now and will be posting up my product wish tomorrow.